The Art of Ancient Civilizations
Reproduced by Thomas Baker
Thomas Baker Paintings Home Page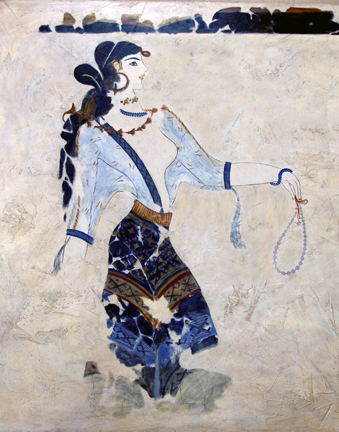 Reproduction of a Theran wall mural
"Woman With a Necklace"
(approx. 3600 years old) by Thomas Baker
48 X 48 inches, oil on plaster-textured wood panel
This painting is available for purchase; price $6500.00 (U.S.) Contact Thomas Baker
Prints of this painting are available--click here for info
The Minoan dress shown in the above fresco was replicated and worn by a model to create a new painting, "Ariadne"
(see thumbnail below; click to enlarge)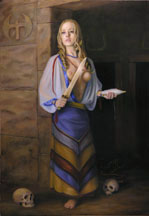 "Ariadne"
Prints of this painting are available--click here for prices and ordering info
The Theran Frescoes: A Tantalizing Glimpse of Atlantis
Thera was an island colony of the Minoan civilization of seafarers that was centered on the island of Crete , off the southern coast of Greece, and was the forerunner of classical Greek culture. Located on the island known today as Santorini, Thera was destroyed and buried when the island exploded in a catastrophic volcanic eruption around 1630 BC., an event that may have ultimately doomed the entire Minoan world, and which many scholars now believe gave rise to the legend of Atlantis. The buried city of Akrotiri was discovered on Thera in the early 1970's, and the Greek government began excavation. The work continues today, made difficult by overlaying volcanic ash as much as fifty feet deep in places. Fragments of beautiful wall murals such as this one, that I have named "Woman With a Necklace," have been found in many of the houses, and are being painstakingly reassembled in archaeological laboratories like large jigsaw puzzles (although, as this reconstruction shows, sometimes not all the pieces can be found). I have recreated some of these murals as they appear today in the Athens Museum of Archaeology. (For more information on Thera, see this website, and there are more links in the text beneath my Girl Gathering Crocus Flowers reproduction). As noted above, I also replicated the clothing shown in this and other Theran paintings and used it as the basis of my modern painting "Ariadne."
Unlike Egyptian, Hittite, and similar art of the time, which usually featured stiff, symbolic representations of humans and military themes, the Minoans painted light, natural, airy scenes of everyday life, showing flowers, birds, monkeys, and sea life such as octopi and leaping dolphins. In these paintings Minoan women wear elaborate jewelry and and colorful costumes that bare their breasts, as seen here. This girl wore a blouse of transparent fabric thousands of years before women of the Edwardian era put on similar garments (though not quite as revealing) to have their portraits painted by John Singer Sargent (see my reproductions of Sargent's paintings). In an interesting exercise in practical archaeology, I used modern sheer fabrics to recreate this blouse, along with an authentic Minoan skirt, and used the costume on a model to paint my illustration of the Greek legend of Ariadne.
Return to Ancient Civilizations painting reproductions
Thomas Baker Paintings Home Page
Original paintings by Thomas Baker:  Group 1 | Group 2 | Group 3 | Group 4
Portraits | Old Masters copies | Ancient civilizations reproductions | Prehistoric reproductions
About the Artist | Contact Thomas Baker