Buy a Print of a Thomas Baker painting here!
Page 1 of 4
Thomas Baker Paintings Home Page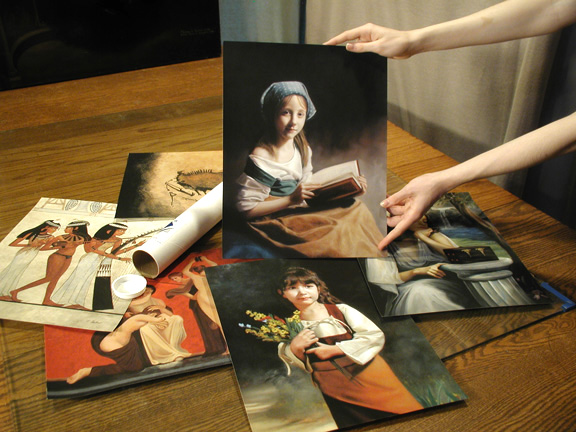 Prints of Thomas Baker paintings for sale
Page 1 | Page 2 | Page 3 | Page 4
Rich, vivid colors from permanent, archival inks
Unique--available nowhere else
Fast shipping
Museum-quality prints of paintings by Thomas Baker, showing the deep, rich colors of the original oil paintings, are wonderful collector's items and make special gifts for art lovers. These rare, limited edition prints are available nowhere else. They are for your personal enjoyment and display (non-commercial use). The prints are a full 13 X 19 inches in size, printed on heavyweight matte art paper using special archival inks that the manufacturer guarantees will not fade for at least 200 years if properly displayed (protected from environmental hazards, as explained in the included documentation). Prints are usually shipped the same day an order is received, and Priority Mail normally takes only two days within the continental U.S., so you get your print fast. Each print is signed and comes with a certificate of authenticity, information about the origin and significance of the image, and suggestions for its care, framing, and display. Prints are shipped rolled up with their paperwork in Post Office cardboard tubes as shown above for protection during transport.
The Sonnet

(T. Baker original painting)

13 X 19 inch print

$75.00 plus $6.00 shipping

Madam X reproduction

13 X 19 inch print

$75.00 plus $6.00 shipping

Pandora

(T. Baker original painting)

13 X 19 inch print

$75.00 plus $6.00 shipping

Villa of the Mysteries reproduction

13 X 19 inch print

$75.00 plus $6.00 shipping

Anasazi Parrot Woman reproduction

13 X 19 inch print

$75.00 plus $6.00 shipping

Little Girl in White

(T. Baker original painting)

13 X 19 inch print

$75.00 plus $6.00 shipping

Egyptian Musicians reproduction

13 X 19 inch print

$75.00 plus $6.00 shipping

Anasazi Kitchen

(T. Baker original painting)

13 X 19 inch print

$75.00 plus $6.00 shipping
Page 1 of 4
Page 1 | Page 2 | Page 3 | Page 4
Thomas Baker Paintings Home Page
Original paintings  Group 1 | Group 2 | Group 3 | Group 4
Portraits | Old Masters copies | Ancient civilizations reproductions | Prehistoric reproductions
About the Artist | Contact Thomas Baker