Thomas Baker Oil Painting
About the Artist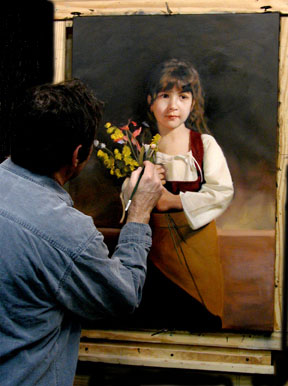 Thomas Baker painting "First Bouquet"
Thomas Baker Paintings Home Page
This YouTube video is a tutorial on canvas-stretching for artists, but the introduction also contains a biography of Thomas Baker
(Written biography below)
An archaeologist with a paintbrush
Thomas Baker first grew interested in art while living in Turkey as a youth, exploring the ruins of cities built by the ancient Greeks, Romans, Hittites, and other extinct civilizations, and admiring the artwork they left behind. Sketching wherever he went, he later roamed the museums of Europe and the Middle East, viewing artwork rarely seen by the general public, and in Italy was impressed by the magnificent Roman wall murals uncovered at Pompeii, which have also inspired many painters of the past such as John Singer Sargent and Pierre-Auguste Renoir. In the U.S., while taking art and archaeology courses at different colleges, Baker earned a Master's Degree in archaeology while continuing to study the art of the past. He has created exact, full-sized replicas of Pompeiian wall murals, ancient Egyptian tomb paintings, and Minoan frescoes unearthed on the island of Santorini in the Aegean Sea, now thought to be the Atlantis of legend (these last, his favorites, were created nearly four thousand years ago and include light, airy scenes of flying birds, cavorting dolphins and elaborately dressed girls gathering flowers).Baker also traveled to France to study the oldest known paintings in the world, over 20,000 years old, on the walls of deep caves such as Lascaux in the Dordogne valley. While in graduate school for archaeology, Baker also earned a commercial pilot's license and took up aerial photography, which led to aerial archaeological expeditions throughout the American Southwest and into Mexico, in which he was both the pilot and the photographer (see his Aerial Archaeology Website). His aerial photos now grace numerous books, museums, postcards, and gift shops at national monuments. Back on the ground, Baker used computer technology to restore fragmentary prehistoric kiva paintings created centuries ago by the Anasazi Indians, which were discovered and excavated by the archaeology field school of the University of New Mexico. Baker also studied more modern painting styles, from the Renaissance onward, and as usual found replicating them in the original materials to be the best means of understanding them. While creating museum-quality copies of Rembrandts, Vermeers, Sargents, etc. Baker also began painting portraits and other original compositions in the same styles used by these classical painters, and thus launched his career as an artist in oils. Baker admires the classical realist painters of the late 19th century, and feels that Western painting reached its zenith during that time in the works of such men as Adolphe-William Bouguereau, Alexandre Cabanel, Paul Delaroche, and Jean-Leon Gerome in France, John W. Waterhouse, Frederick Leighton, and Lawrence Alma-Tadema in England, and the American John Singer Sargent. These painters, and others like them, strove to depict such human universals as the love of beauty, the tragedies of fate, the drama of history and mythology, themes seen in the finest art of antiquity. 19th century classical art represents thousands of years of improvement in technology and craftsmanship. This is the style of painting Tom Baker follows today in his original compositions, working from live models just as the painters of that day did.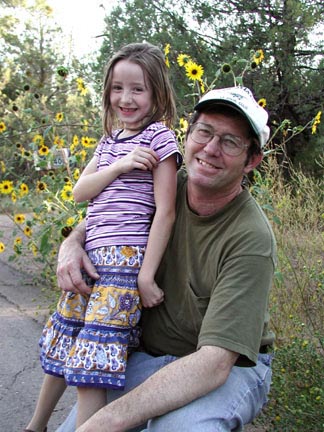 Thomas Baker with his daughter and favorite model Mary Kathleen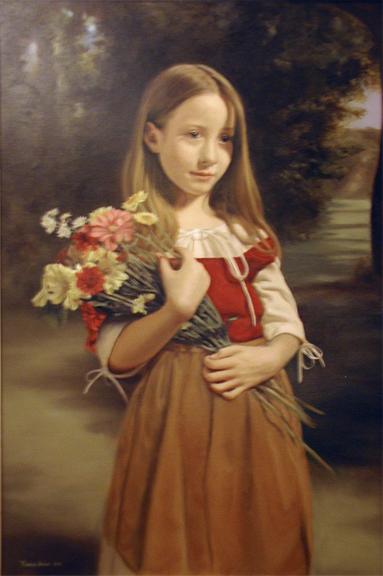 "Mary with a bouquet"
24 X 36 inches, oil on canvas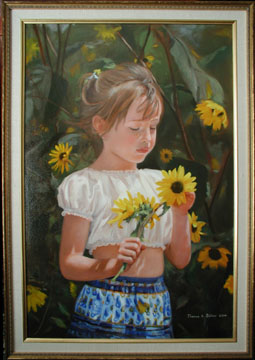 "Mary Among the Sunflowers"
Thomas Baker Paintings Home Page
Original paintings  Group 1 | Group 2 | Group 3 | Group 4
Portraits | Old Masters copies | Ancient civilizations reproductions | Prehistoric reproductions | Art lessons | Tutorial DVDs