Thomas Baker Oil Paintings
Thomas Baker Paintings Home Page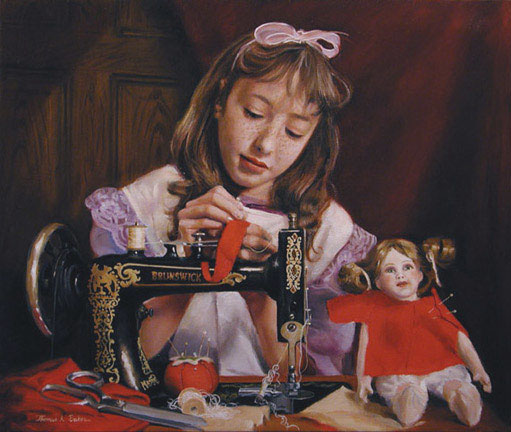 Title: "In Grandma's Attic"
Oil paint on canvas, 20 X 24 inches
Click here to see the model with the painting
This painting is available for purchase; price $6500.00 (U.S.) Contact Thomas Baker
Prints of this painting are available, click here for prices and ordering information
My discovery of a lovely old sewing machine in the junkpile at a local second-hand store led to this composition. My thanks to the members of the International Sewing Machine Collectors' Society (ISMACS) and the Treadle On antique sewing machine Internet discussion group for assistance and information about the machine. To my amazement, although this sewing machine is perhaps eighty years old, members of these groups were able to furnish me with missing parts, a copy of the original manufacturer's manual, and advice in such matters as threading it correctly for the painting (although the little girl in the painting has obviously been having a bit of trouble with it, which Grandma will soon put right). After some cleaning and oiling, the old machine now actually works again when the balance wheel is turned by hand (it was originally operated by a belt from a foot treadle).
Thomas Baker Paintings Home Page
Original paintings by Thomas Baker  Group 1 | Group 2 | Group 3 | Group 4
Portraits | Old Masters copies | Ancient civilizations reproductions | Prehistoric reproductions
About the Artist | Contact Thomas Baker